Feldenkrais® - Awareness through Movement, 10 lessons, 

Autumn group courses in the studio and on-line.
Course 1:
The start of the autumn course will be communicated in the next weeks
Thursday | 18:00h - 19:00h; Cost: EUR 160,--
Location: Hoher Markt 5, 1010 Vienna and on-line
Course 2:
The start of the autumn course will be communicated in the next weeks.
Individual lessons also in July and August on request
Location: Pariser Gasse 4/1, 1010 Wien

When booking the course, it is also possible to participate on-line. The lessons are recorded and can therefore also be accessed at other times.
It is possible to join the course at a later date. The costs will then be charged on a pro rata basis.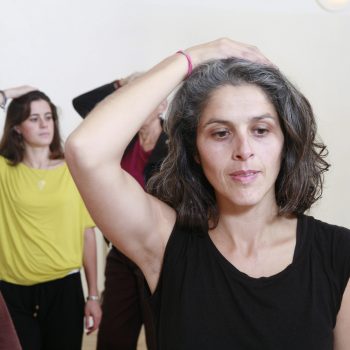 Feldenkrais Courses - Awareness through movement...
...take place in a group. We explore different and unusual movement variations with simple movements in a light and playful way. This gives the nervous system the opportunity to perceive subtle differences and to recognise alternatives in the sensing. This means that we will not imitate and repeat "correct" movements, but we challenge the nervous system to find solutions for freer and pain-free movements in a playful way.
Feldenkrais Individual Lessons - Functional Integration...
I offer individual lessons on request.
Individual lessons with the Feldenkrais Method enable an even more effective learning process than group lessons. The movements take place mainly lying down, but also sitting or standing. Usually the student is guided through gentle movements while lying on a wide Feldenkrais couch. The Feldenkrais teacher gives the student the opportunity to improve the organisation of movement by means of fine touches and movements.